Are you planning a Christmas party this year? Whether it's your first time hosting or your thousandth, you are sure to impress your guests with a beautiful and festive table! Get some inspiration for your own feast with these 9 Stunning Christmas Table Ideas.
1. Classic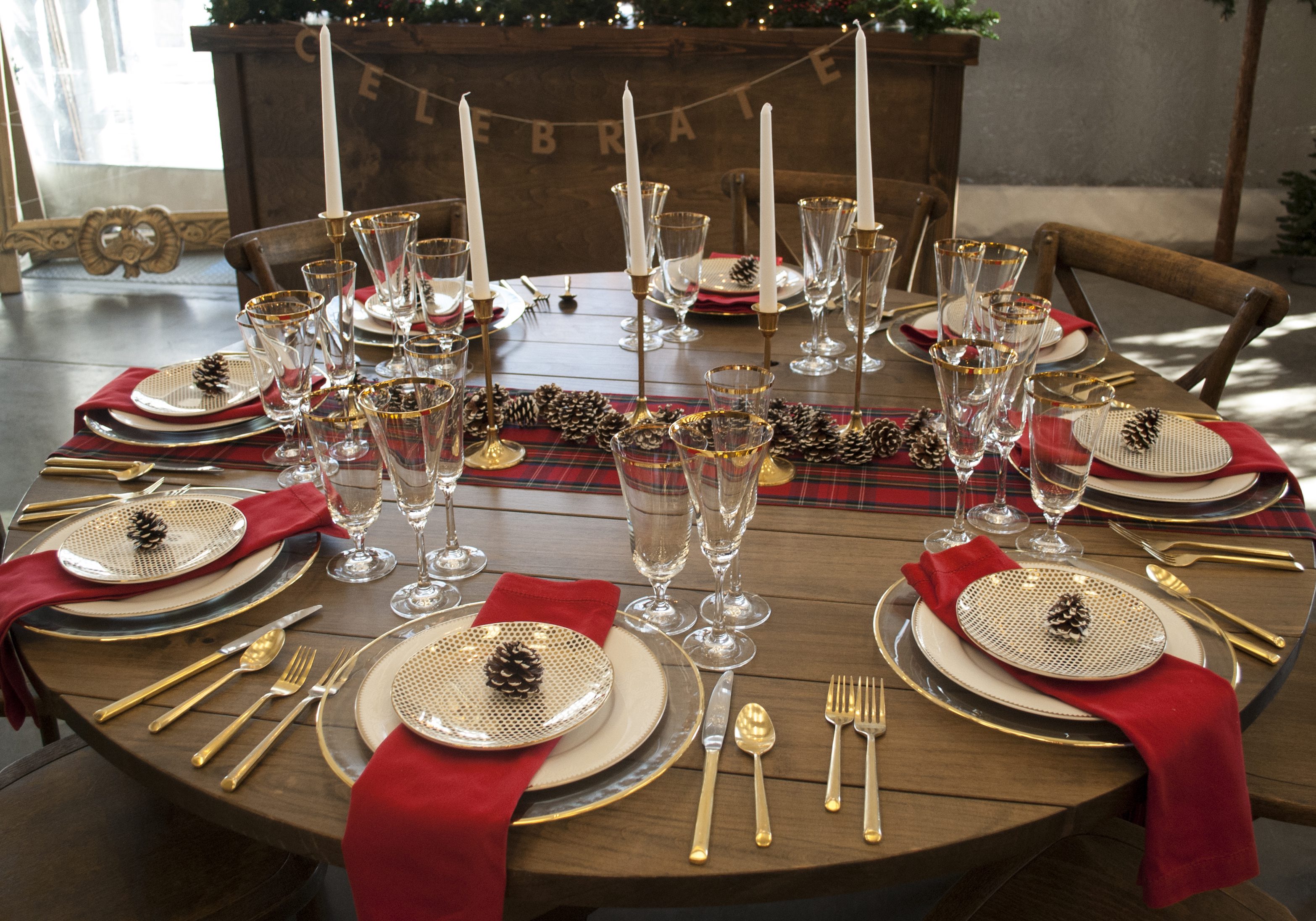 You can't go wrong with a timeless look like this! Red plaid paired with gold on a natural wood table will instantly set the mood for a classic Christmas celebration.
2. Modern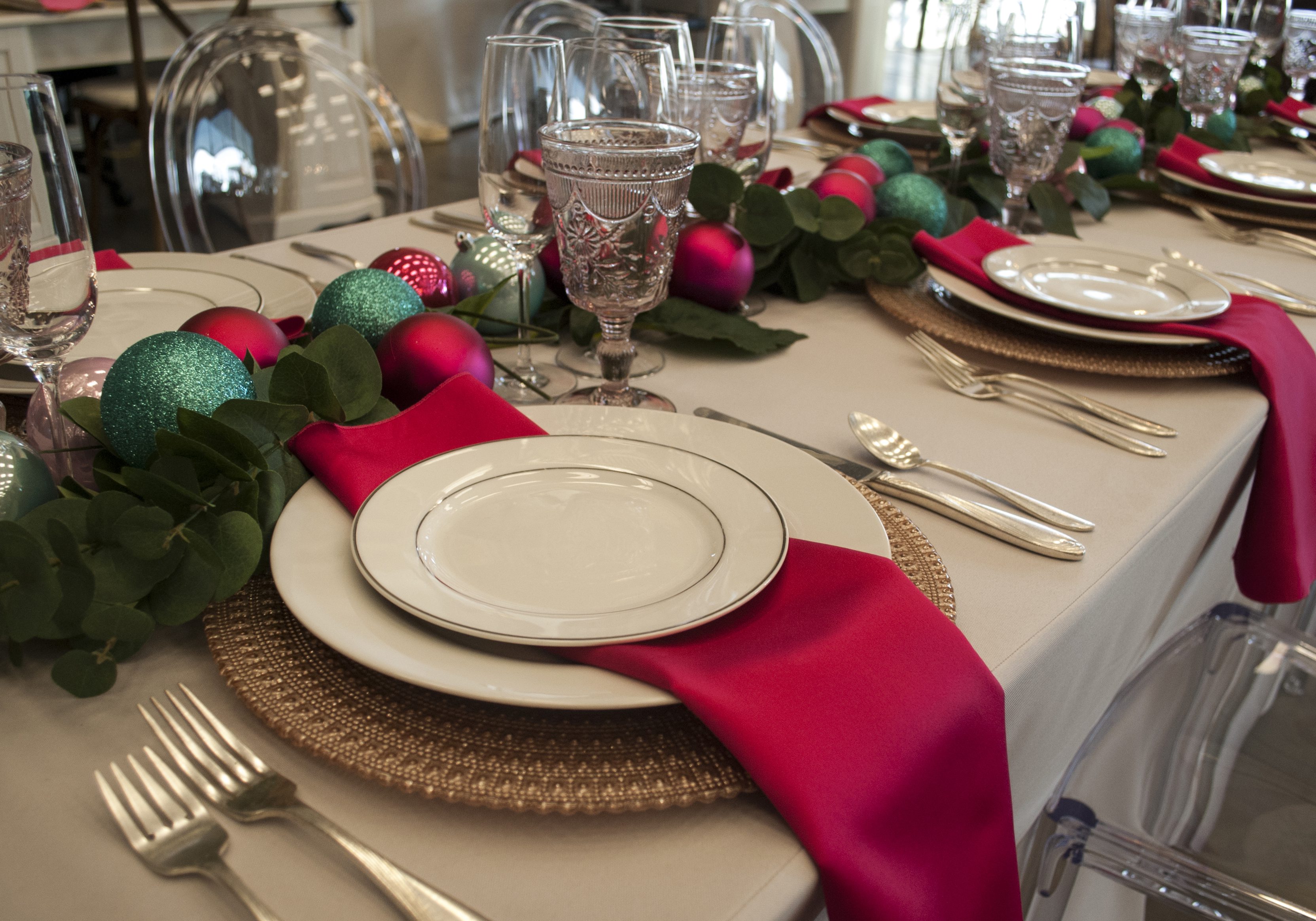 Replace red and green with a pink and teal combination on top of a light and neutral palette to bring in bright pops of color in an upbeat and modern scheme.
3. Bold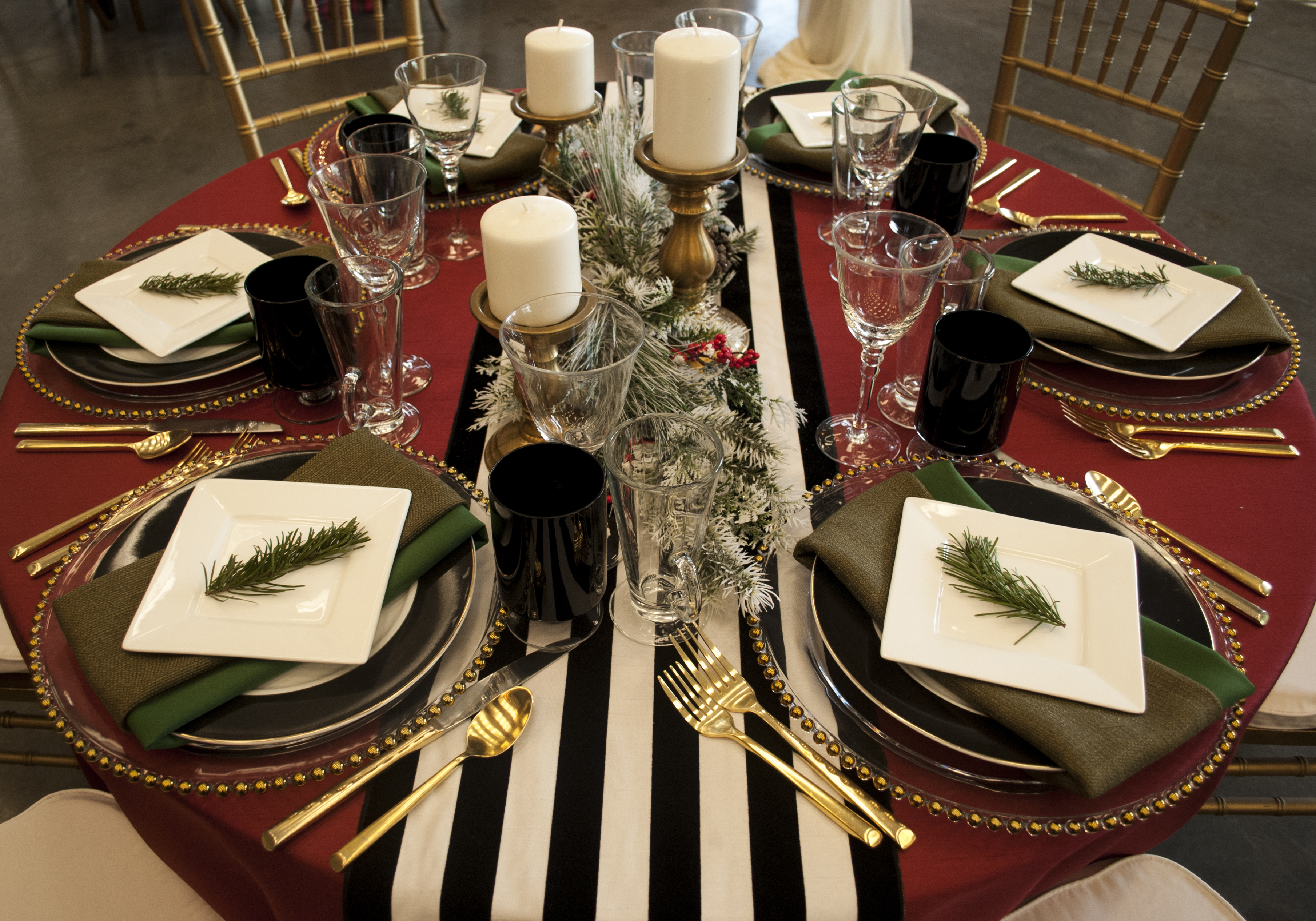 Go bold this year and experiment with black and white prints in your holiday décor! Red, green, and gold details will keep it festive and bold graphic prints add a touch of unique style that guests will love.
4. Neutral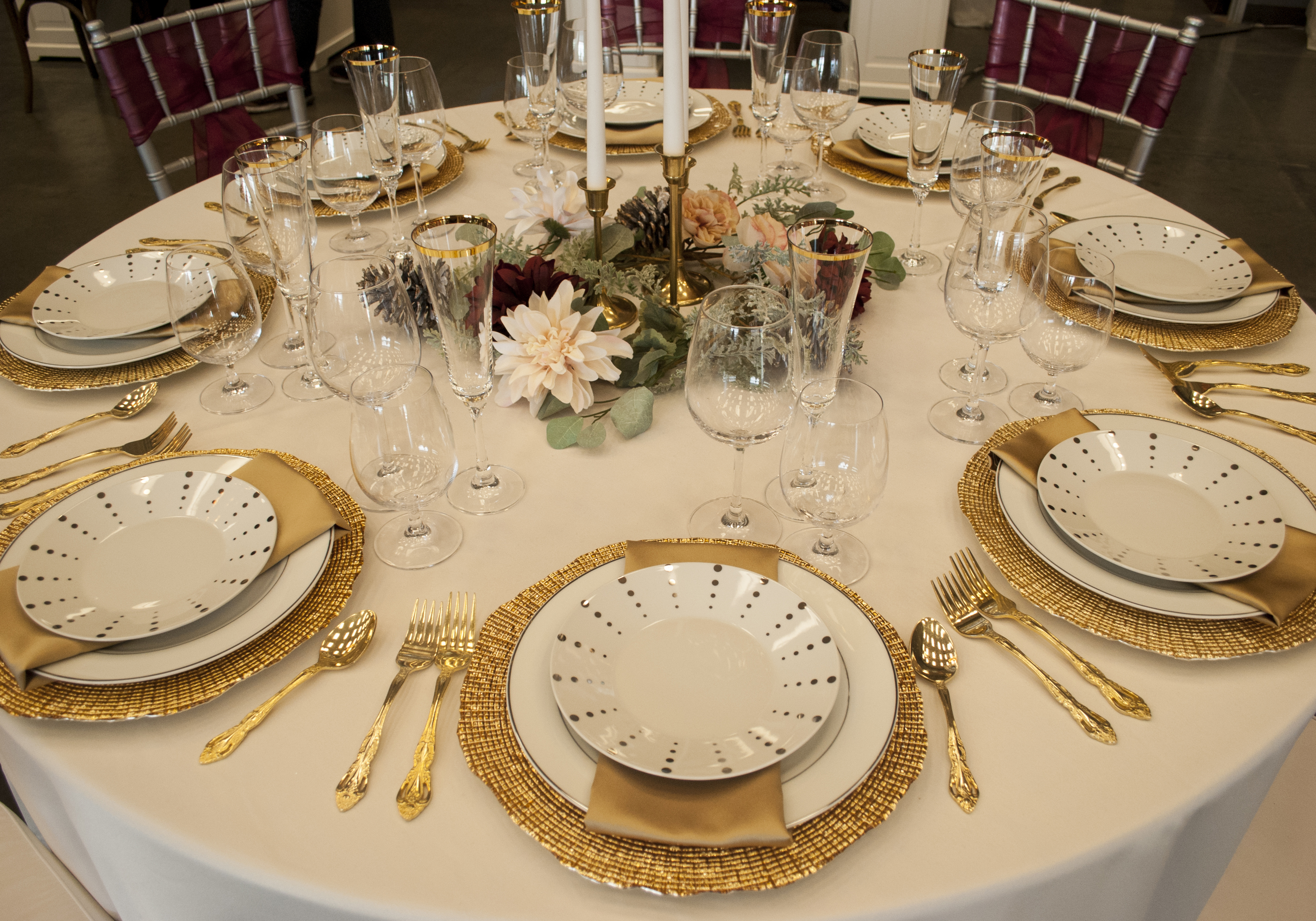 Deck out your table in white and gold to stick with a more neutral palette that lets the rest of your Christmas decorations steal the show!
5. Snowy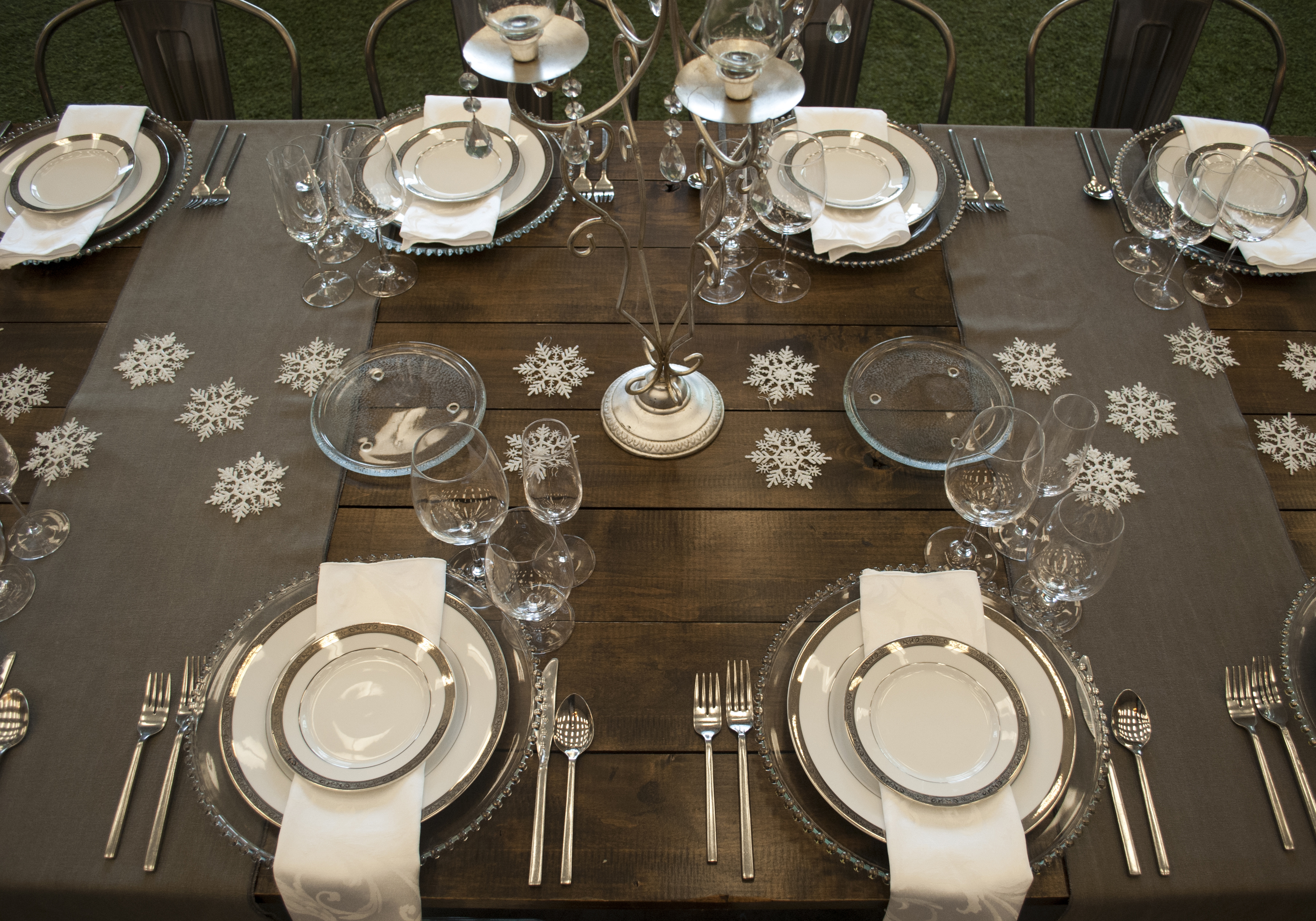 Create a winter wonderland right on your table with grays, whites and snowy details! A candelabra with crystal accents and scattered snowflake cutouts help recreate the look of a fresh snowfall.
6. Natural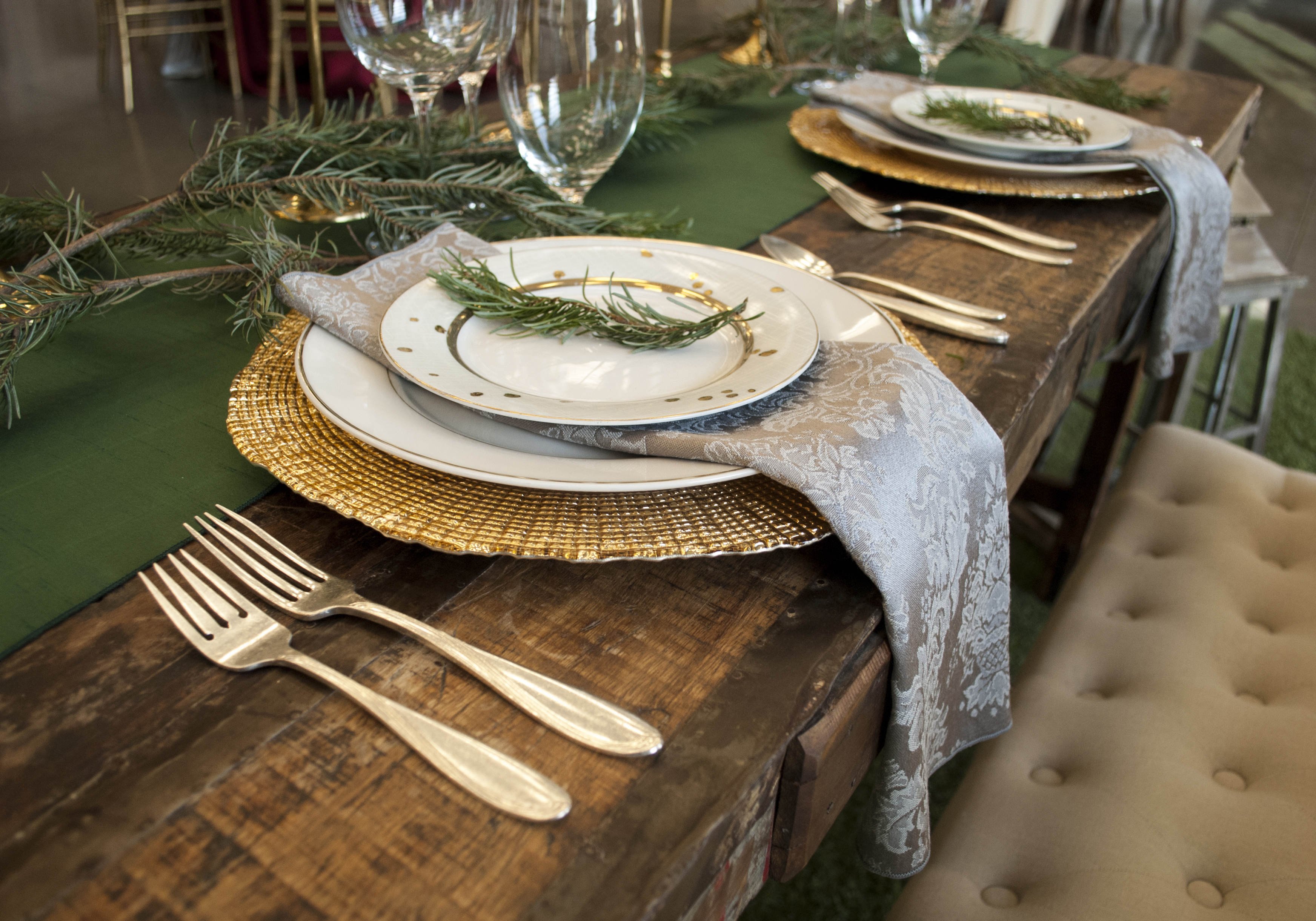 A distressed wood table is the main star of this look, with accents of natural branches, matching green runner, and touches of silver and gold. This combination creates a woodsy vibe that's attractive and festive!
7. Cute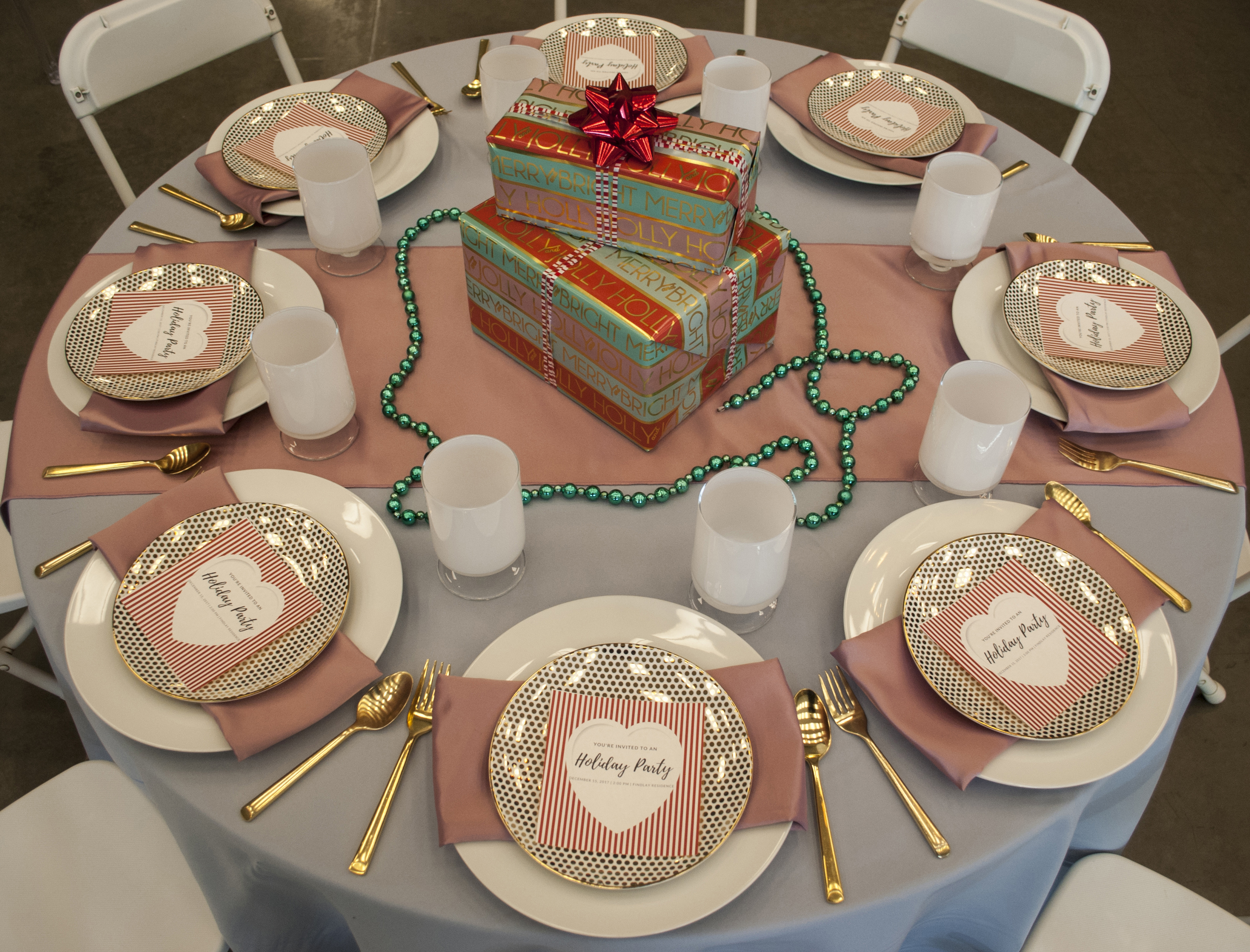 A pastel-toned palette makes an adorable holiday look, especially for the kids' table! Light pink and blue is an unexpectedly festive color combination that works for any age.
8. Glam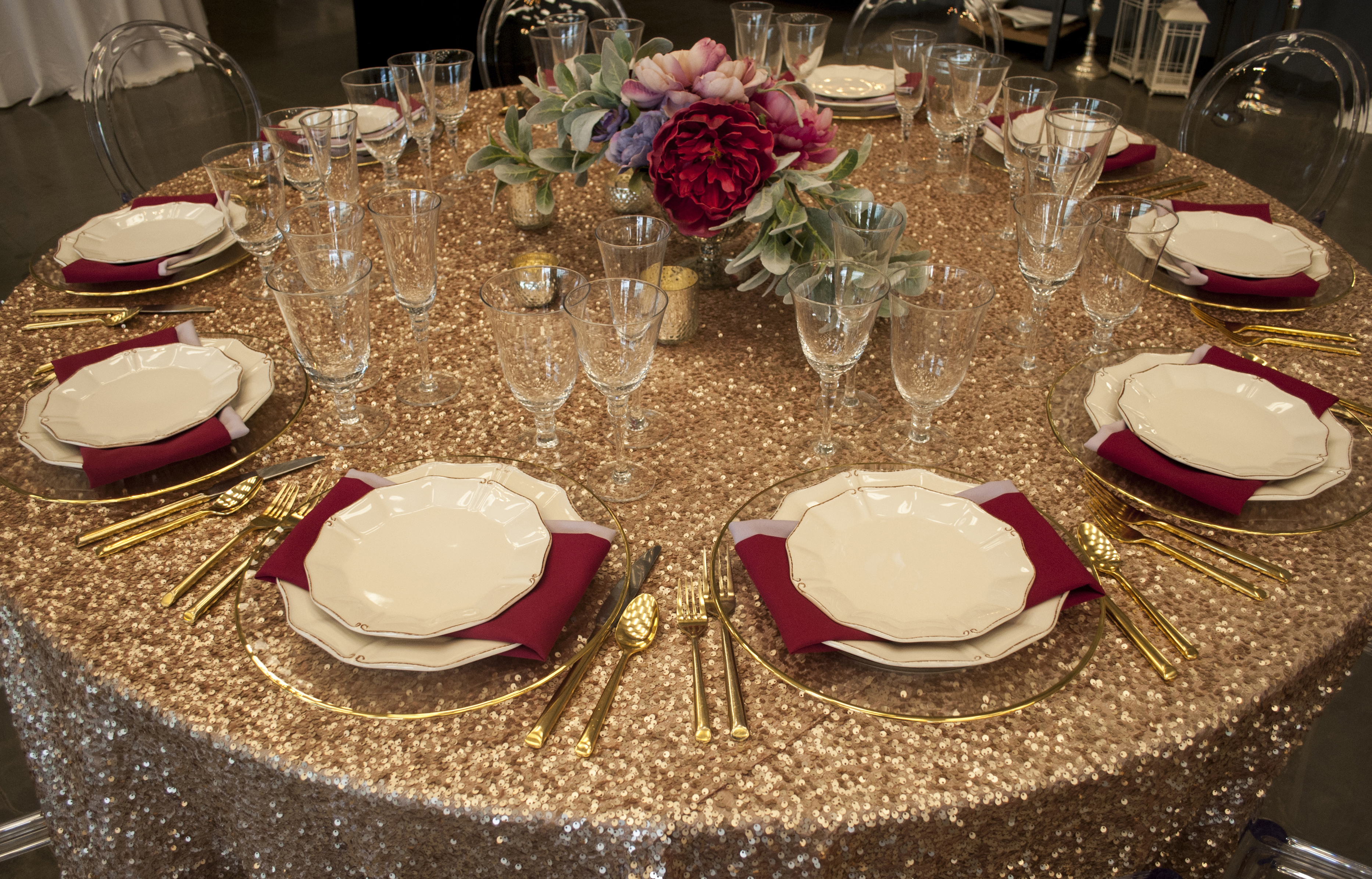 Get a glamorous holiday look by starting with sequins! Add red, pink, and gold to round out this cheery Christmas look.
9. Non-traditional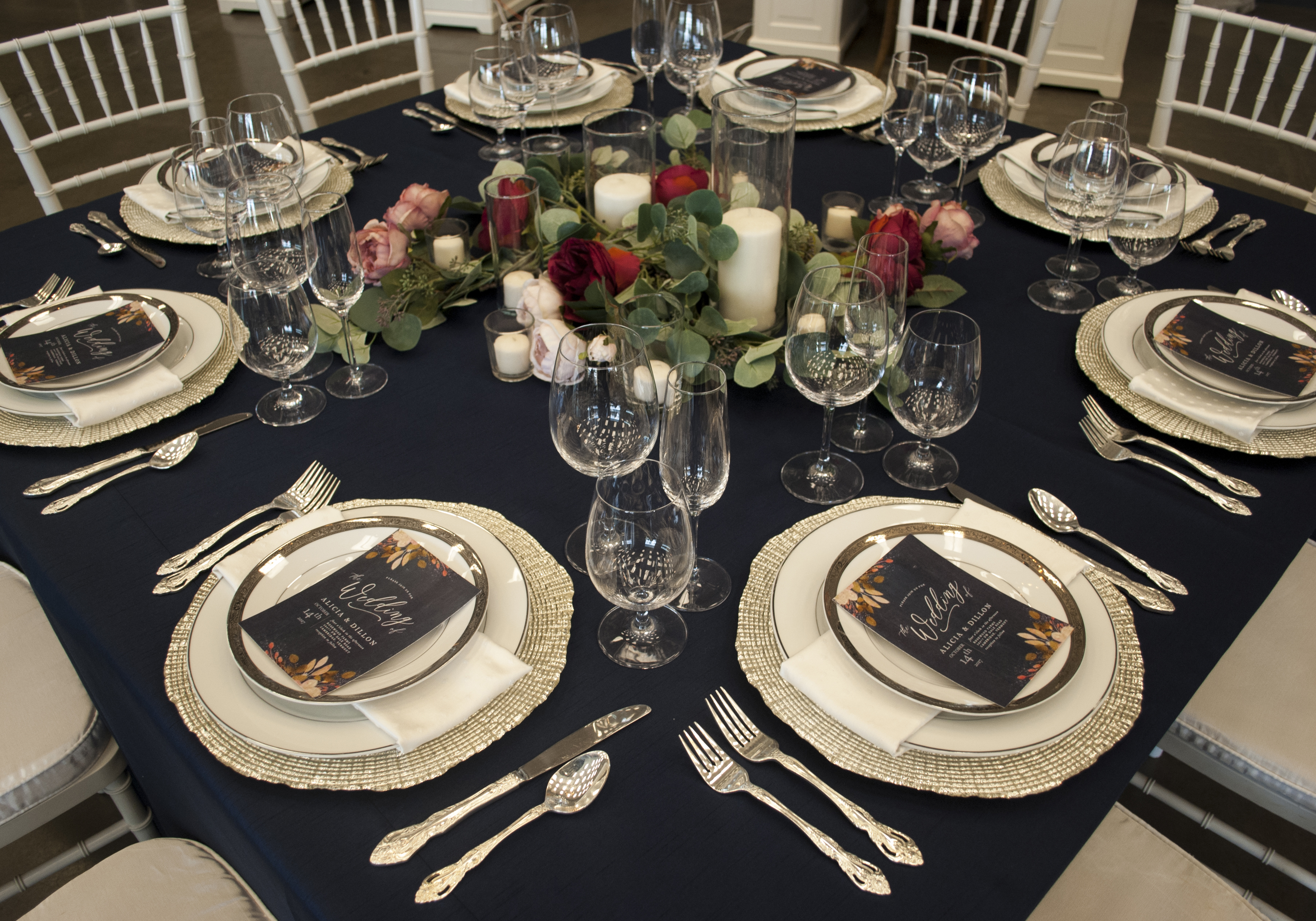 For a completely alternative look, or if you are looking for something that better encompasses all winter holidays, try a navy blue and silver pairing. The cool colors are still reminiscent of winter without the risk of being over-the-top.
Products pictured: Felicity Settee, Mr. Pillow, Mrs. Pillow, Walnut Stained Farm Style Round Table, Bristol Plaid Runner, Scarlet Linen Napkin, Glass Plain Gold Rim Charger, Victoria Dishware, Dottie Salad Plate, Parker Flatware, Empire Glassware, Gold Candlesticks, Light Grey Polyester Tabledrape, Ava Blush Charger, Bistro Dishware, Jane Silver Dishware, Scroll Flatware, Satin Fuchsia Napkin, Pink Dixie Goblets, Sonoma Glassware, Caprice Ruby Tabledrape, Black and White Stripe Runner, Beaded Gold Charger, Ritz Dishware, Kalvin Dishware, Moss Polyester Napkin, Cabo Palm Napkin, Black Benson Water Goblets, Belle Glassware, Cosmo Coffee Mug, White Polyester Tabledrape, Satin Gold Napkin, Burst Gold Charger, Kate Dishware, Royce Gold Flatware, Walnut Stained Farm Style Table, Platinum Dishware, Gabrielle White Napkin, Beaded Platinum Charger, Metro Flatware, Pewter Polyester Runner, 28" Brushed Platinum 5 Light Candelabra, Vintage Folding Table, Marilyn Dishware, Green Polyester Runner, Kensington Pewter Napkin, Cornflower Polyester Tabledrape, Satin Mauve Runner, Satin Mauve Napkin, White Benson Water Goblets, Sprinkle Gold Tabledrape, Charleston Dishware, Mercury Votives, Cranberry Polyester Napkin, Dusty Rose Polyester Napkin, Navy Polyester Tabledrape, Burst Silver Charger, Clear Votives, Royce Silver Flatware, Chelsea Ivory Napkin.