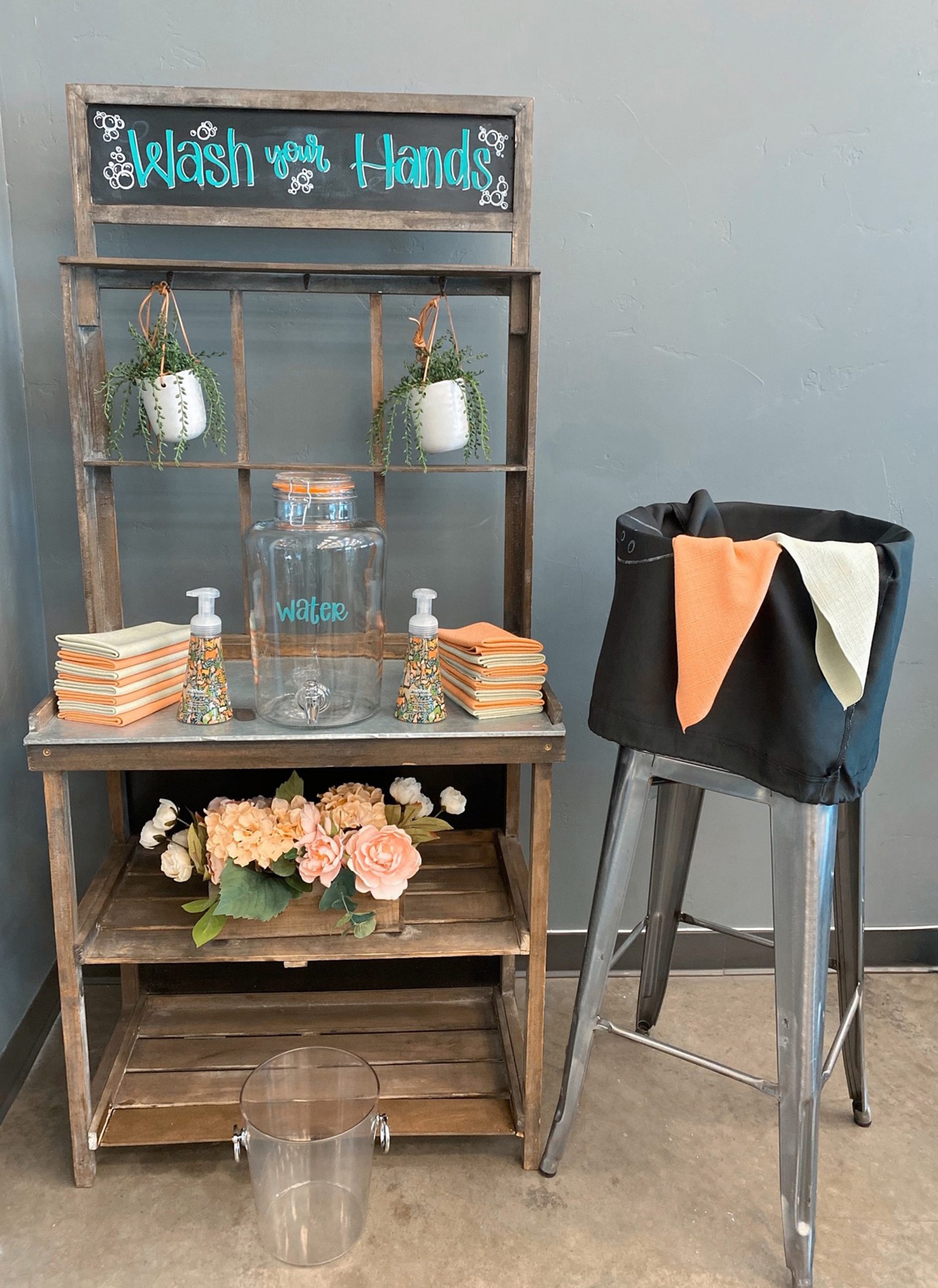 Event Tip #1: Set up a handwashing station
You can create a handwashing station anywhere with soap, clean water, and a few rental items. Pictured here are our Weathered Garden Stand, Glass Beverage Dispenser, and Napkins in Cabo Papaya and Cabo Honeydew. You can use the linen bag we provide as a basket liner for used napkins, pictured here on top of a Gunmetal Barstool. Then, when your event is over, simply cinch up the bag, return it to us, and we will take care of the laundering.
This setup is especially useful for outdoor events where a sink may not be easily accessible, and a great option to decrease paper product waste while still encouraging abundant handwashing at your event.
Event Tip #2: Seat one household at each table
Whether your event is a wedding or a birthday party, create a seating plan and dedicate each table to one household. Be sure to set the tables at least 6 feet apart. We have tables that seat as few as 2 people, and up to 12. Check out this reference guide to learn about the different sizes of tables and how many they can seat. And always feel free to call, email, or live chat with us if you have any questions!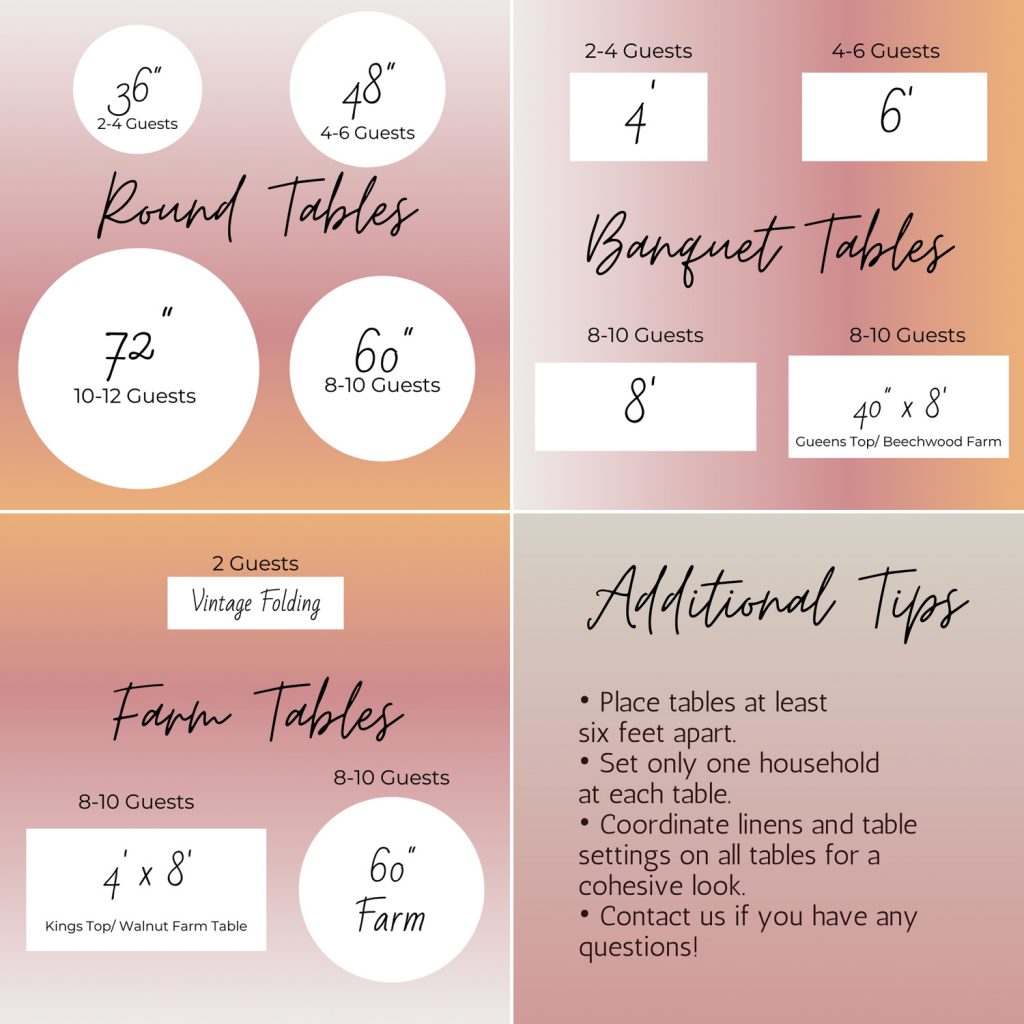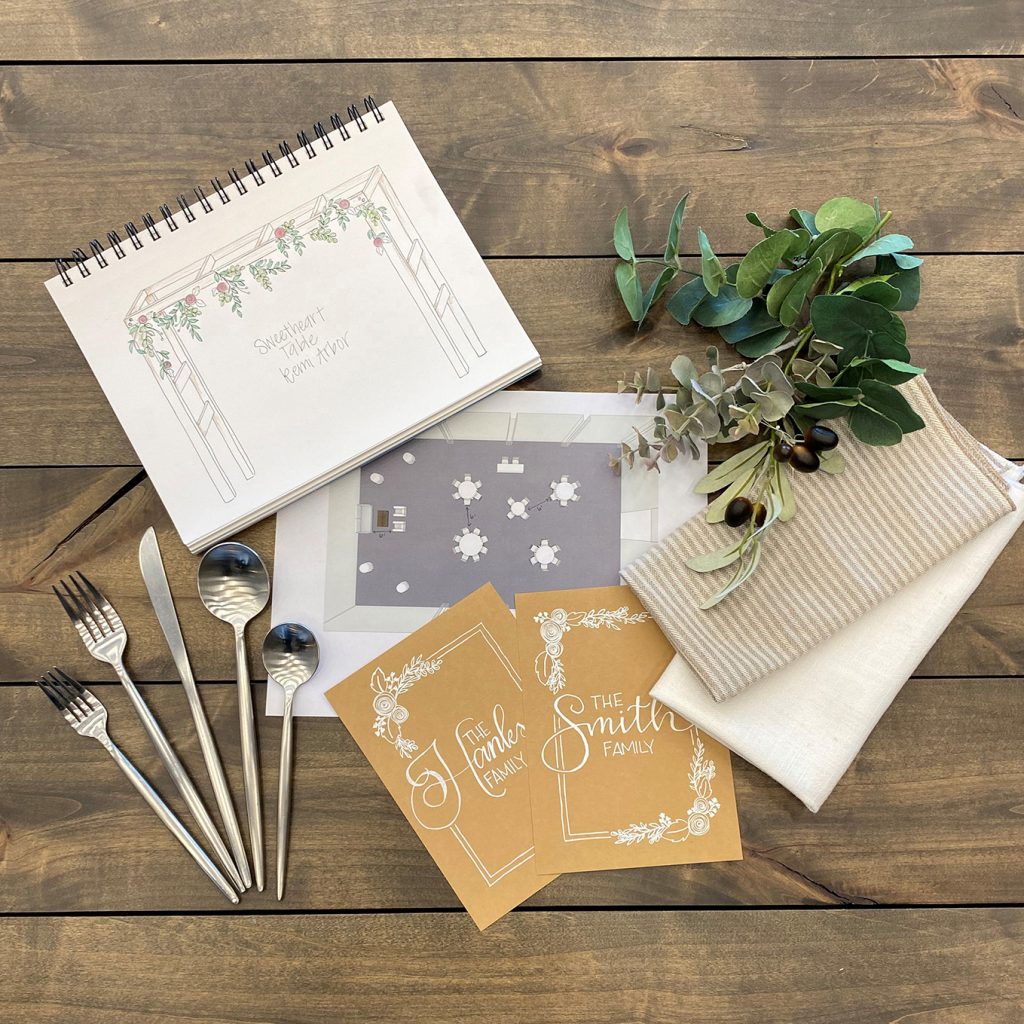 Event Tip #3: Reduce your guest count, and increase the style!
With the reality of lower guest counts comes one huge upside: savings in your event budget! Planners may find that they can now afford a highly stylized look that would have been difficult with a higher guest count. Here's one example of a couple who opted for only 30 guests at their wedding, and was able to upgrade their
flatware
,
napkins
, and sweetheart table decor with our new Remi Arbor. This couple also utilized Tip #2 of seating one household per table, and used custom family name cards instead of table numbers.
Event Tip #4: Consider partitions for close-proximity areas
For areas like bars, food stands, or smaller dining areas where social distancing will be difficult or impossible, consider renting or purchasing partitions like these to help keep your guests safe. We can custom build these clear vinyl partitions in a variety of configurations, from full-length clear walls to counter-height partitions for bar tops or other service stations with pass-through cutouts. They are currently available for rental or purchase, and can be custom built to fit any space. Please contact us if you're interested in renting or purchasing a partition!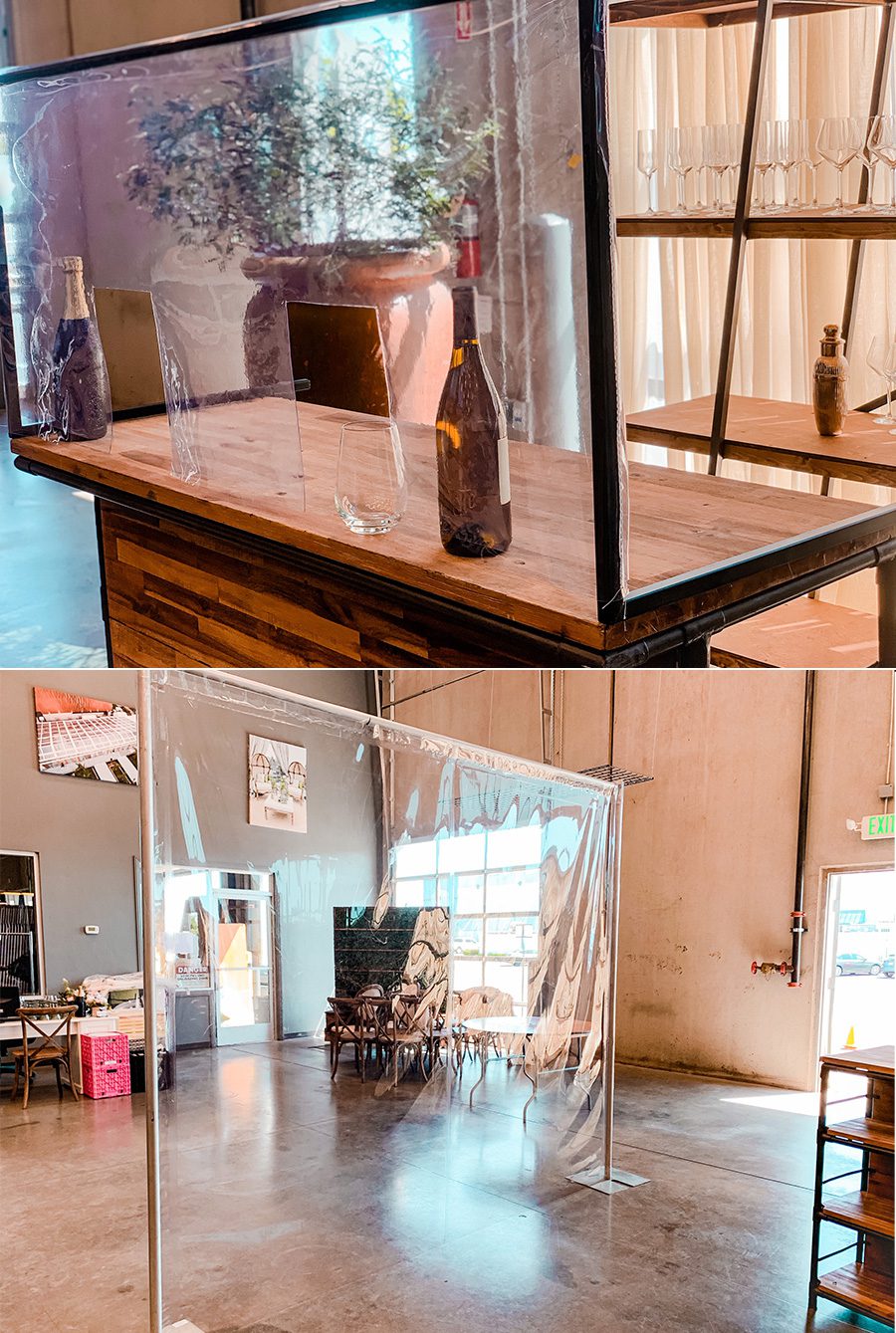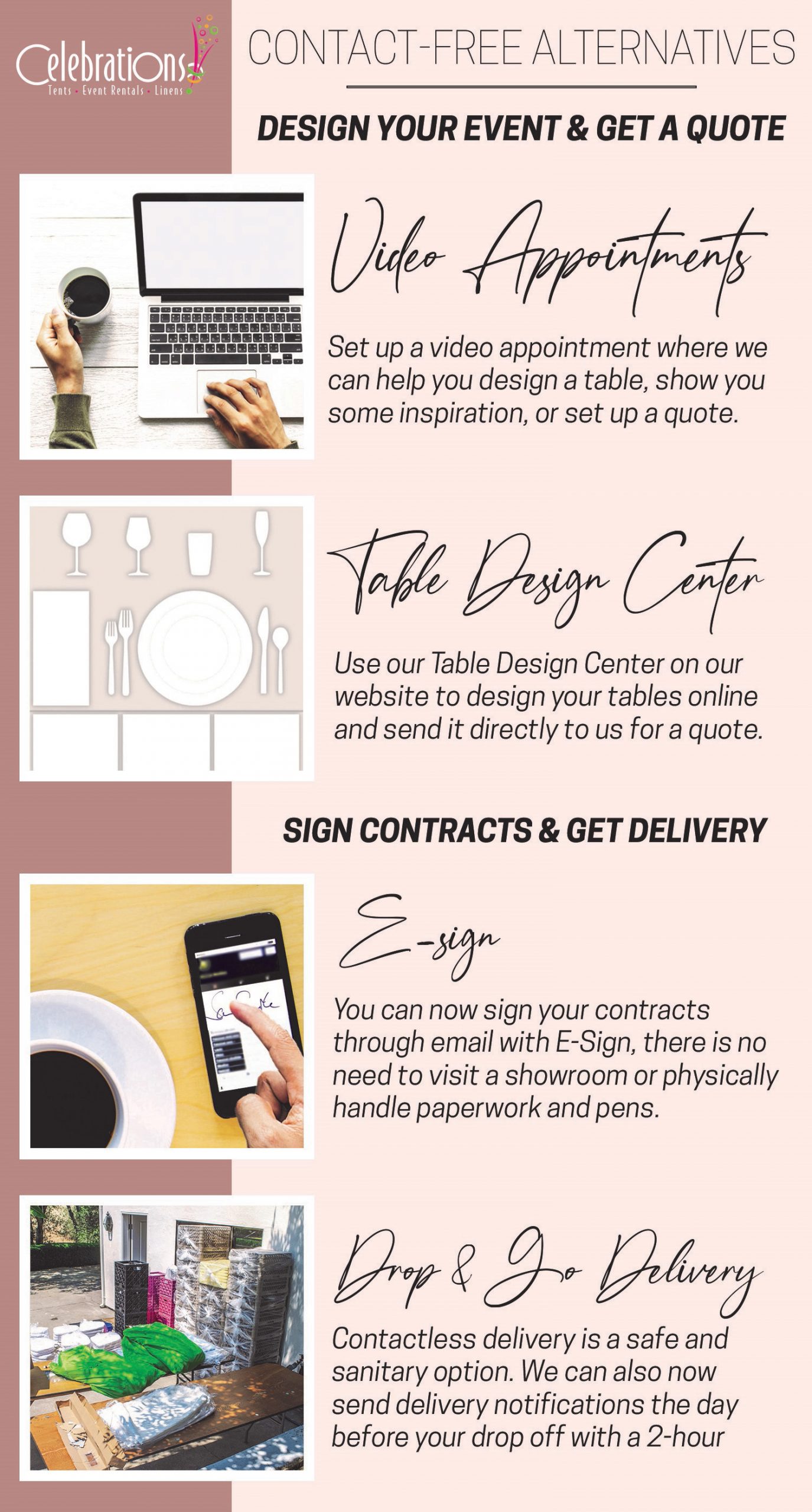 Event Tip #5: Use contact-free alternatives when available
Many companies, including those of us in the event industry, are transitioning some of their functions to include contact-free options. We have made some improvements to our own infrastructure to ensure the rental process is just as fun and problem-free whether you prefer to do it all remotely or visit us in person at a showroom. This reference guide covers what contact-free alternatives we currently have available for each step in your event planning process.
Video Appointments
Set up a video appointment where we can help you design a table, show you some inspiration, or set up a quote.
Table Design Center
Use our Table Design Center on our website to design your tables online and send it directly to us for a quote.
E-sign
You can now sign your contracts through email with E-Sign, there is no need to visit a showroom or physically handle paperwork and pens.
Drop & Go Delivery
Contactless delivery is a safe and sanitary option. We can also now send delivery notifications the day before your drop off with a 2-hour window.